Thanks to Pluna – we really didn't have many options for flying out of Montevideo to get to Rio de Janeiro. So, we had to return by boat to Buenos Aires. This was not by any means a bad thing, as Buenos Aires was an awesome city. We were also excited to stay at a different part of the city – Palermo.
The ferry ride from Montevideo is quite a bit longer than Buenos Aires to Colonia, as it is basically at the opposite end of the bay. The ferry is also a lot smaller than the Colonia ferry, but also quite fast. Rest assured, despite its smaller size, it too has a duty-free store and also smells like perfume. It also has a small cafe where I discovered that you can buy the most disgusting tortilla (as in Tortilla Española) with spinach and about 1 cup of salt, pre-packaged in a plastic container left to sit in its sulfery awfulness. Two bites of that and I threw it away.
We get back to Buenos Aires. Ah, so familiar. Cab it to Palermo… wait. What is this place? Its completely different from Recoleta, and any of the parts we had walked through. Really, it is like we just arrived at a new city.
Palermo, unlike its above-ground-cemetery and walking-zombie-lady neighboring borough, has much shorter buildings that seem to be kept in very good shape. The streets are much more quaint, and have lots of interesting little cafes and restaurants – which is of course expected at this point from Buenos Aires. But they're just a bit more chic – a bit more quaint, and the clientel is a LOT more attractive. Money and beauty may be synonymous in some places. But, maybe Palermo just attracts a different kind of person than Recoleta – like the kind of person who… doesn't like living by a huge creepy cemetery.
Our hotel, "Five Cool Rooms" – which sounds less like a hotel and more like a sequel to a Tarantino film – was substantially nicer than the Ayres Recoleta in every regard. It was hard to spot from the street because its only facade was a door and a small sign. Once inside, it opened up to a nice, chic glass-enclosed courtyard, with no street-facing rooms. It was quiet. It smelled amazing. The beds were the most comfortable we've had yet on the trip. Shame, really, that we didn't stay there to begin with. They did outright lie to us about the hot tub working, though.
Not having good food on the boat, we were both quite hungry and grabbed some food at a cool café.
Palermo even has bars in their stores. Now that is how to shop!
We walked around Palermo, realized that we needed more money from an ATM, and thought we'd go find a bank for an ATM. Simple, right? We're in a major, well-off part of town. No, not simple. We walk to the main drag, and there are no banks. Turn around and walk further down, no banks. It was baffling. I don't even remember when we found a bank, but it took us nearly 30 minutes of walking to find a bank, and another 10 to find one which would accept foreign cards.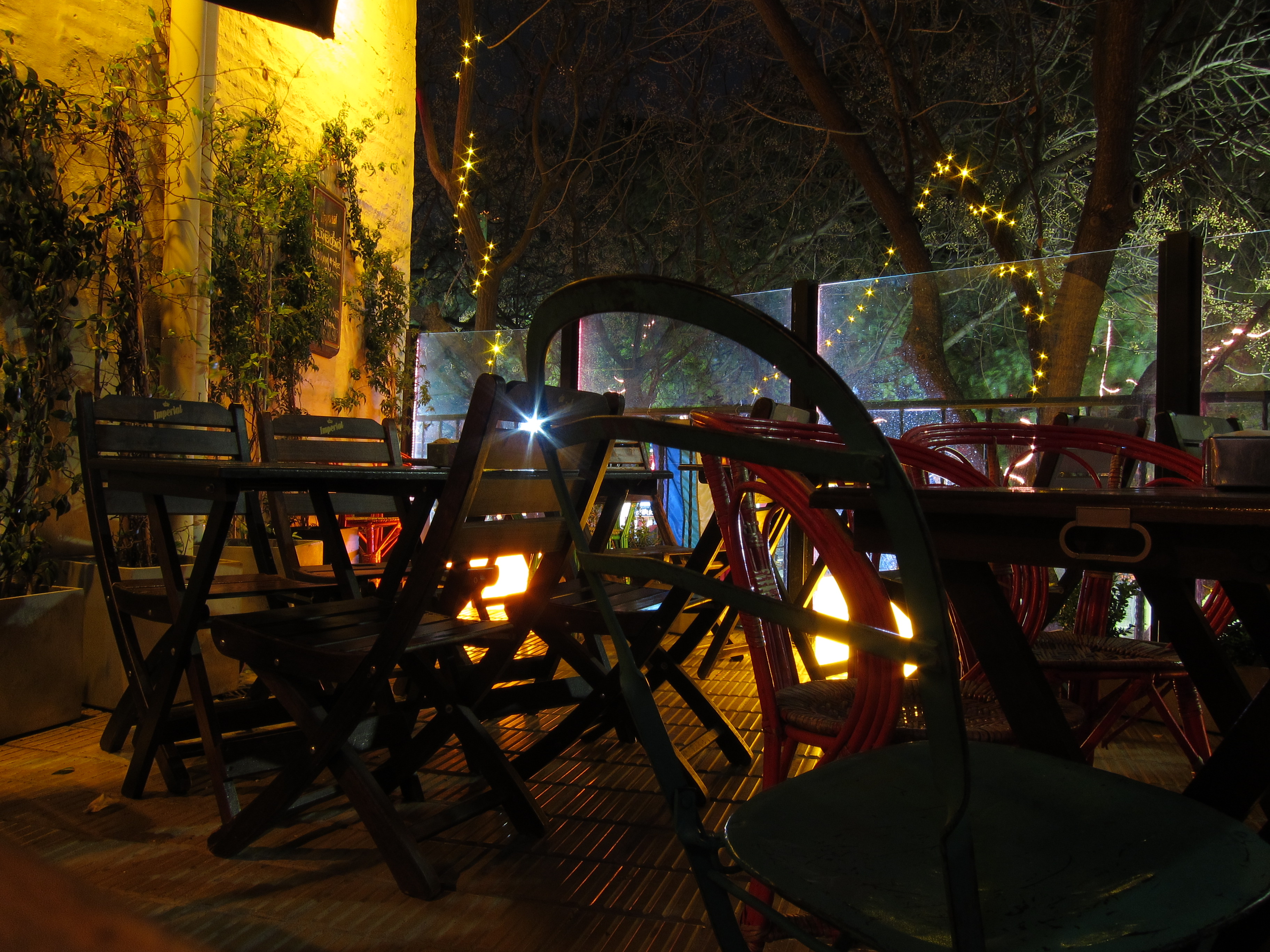 Time to spend that money on drinks. On a terrace. With a nice view of a square. Complete with obnoxiously slow service that we'd come to expect at this point.
Lesson learned. Next time, stay in Palermo. A nice way to end our 2nd visit to Argentina. But bring money.
Don't cry for me, Argentina, we'll be back in Iguazu in just a few days after hitting up Rio de Janeiro.