Travel
From Colonia, Montevideo is best reached by bus. The bus line was quite nice – featuring comfortable seats and even had wi-fi on board that had a better connection than our Bed & Breakfast. The ride is scheduled to be about 2.5 hours. I was expecting this would be a fairly direct route, but we seemed to stop in places that didn't even have a town. Just random spots on the highway along-side farms. The landscape passing by gave us a demonstration of many farms, cows, horses, pigs, and pretty much every kind of pastoral view you could imagine. Again, it felt like driving through Ohio – except with random scatterings of palm trees along the road. The landscape didn't align with these palm trees or vineyards, but somehow it all fit together in its own way.We got to Montevideo in the scheduled time without any issues.
Pizza & Food
The first food I wanted to try in Montevideowas the pizza. This is largely in part due to Christine Hebl's blog about their trip to Montevideo, and how they stumbled into a place and ordered pizza that looked funny but tasted good. Well, we actually sought out pizza, but the first place we wanted to eat was closed, so we wandered to the next restaurant which also had pizza and looked almost exactly like what Matt & Christine had ordered. It was indeed quite delicious – almost like a giant cheesy bread. Alex got a sandwich which he said was amazing.
The City
Alex noted that Montevideo felt like the Eastern Europe of the region. Perhaps it was like coming to Ljubljana after visiting Milan. It was quieter, cleaner, people were friendly and seemed slightly less stuck up than their Buenos Aires counterparts (not that wee have any complaints about people in Buenos Aires!) The buildings are shorter, and there are lots and lots of monuments dedicated to heroes and politicians of various sorts. In centers of Plazas. Mounted on horses, of course.

There are also lots of naked baby sculptures.
We noticed was that you definitely feel much less enclosed in Montevideo than Buenos Aires or Santiago. For instance, from the road our hotel was on, we could look straight down the road and see the ocean. If we walked the opposite way up the road, we'd reach the main street which seemed to run along the highest point of the peninsula encasing the old part of Montevideo – the "barrio historico". If you walked across that street, you'd see the ocean on the north end of the peninsula. Even if you got lost, you couldn't get too far.
Navigating this city was thus quite easy. You have clear boundaries (water) which are visible from most blocks, and you knew whether you were heading to or away from the water based on the slope of the road. Roads were given pretty simple one-word names and were clearly marked. The signs all featured about a 3" strip of advertisement space across the top. Usually it was purchased by some cell phone carrier, but occasionally, you'd see something like "Pizza 2039-2927". Mmm, generic anonymous street sign pizzaria.
Doing our initial walkaround of the city, we finally saw some guys with machine guns standing in front of a bank, and they even had a chaser car for the bank money collection. Unlike most men carrying machine guns, these guys were all smiling and almost giggling the whole time at their own job. Its as if they thought their purpose was somewhat overkill, and they smiled like "Yeah, we're Ocean's-11-awesome".
We also saw lots of horse-drawn… garbage trucks.
The following day, we woke up and got some food. I hated my omelette, but Alex liked his. We walked the Rambla on the southern shore of the peninsula. Originally, we hoped to go for a jog down this stretch but it was freezing cold outside and neither of us were too excited about running in the cold sea breeze. The views were nice, the beaches deserted, and the number of people jogging were surprisingly few for a city that size. We walked to Pocitos beach, which was a decent hike, then back in towards the city where we found an open-air food market in the middle of a street. There were some gorgeous houses along the main avenue which I very much enjoyed walking along. Until I was too tried, and it was time to take a cab back to the city center and sit in a café for a while.
We headed to the market by the port, which wasn't so much of a market as it was a giant building stuffed with lots of Parilla restaurants, all serving basically the same meats cooked on open fire flames. Alex couldn't resist, and ordered a half-size plate of sausage. The waiter/cook was delited to have us there, and asked us where we were from, and gave me a free plate of French Fries because he felt bad that I had nothing to eat while Alex was trying the meat (I didn't mind). People are really so nice. As much as I don't care for meat, the parilla was an interesting thing to view. They had an amazing system in place for grilling meat – I've never seen anything quite like it.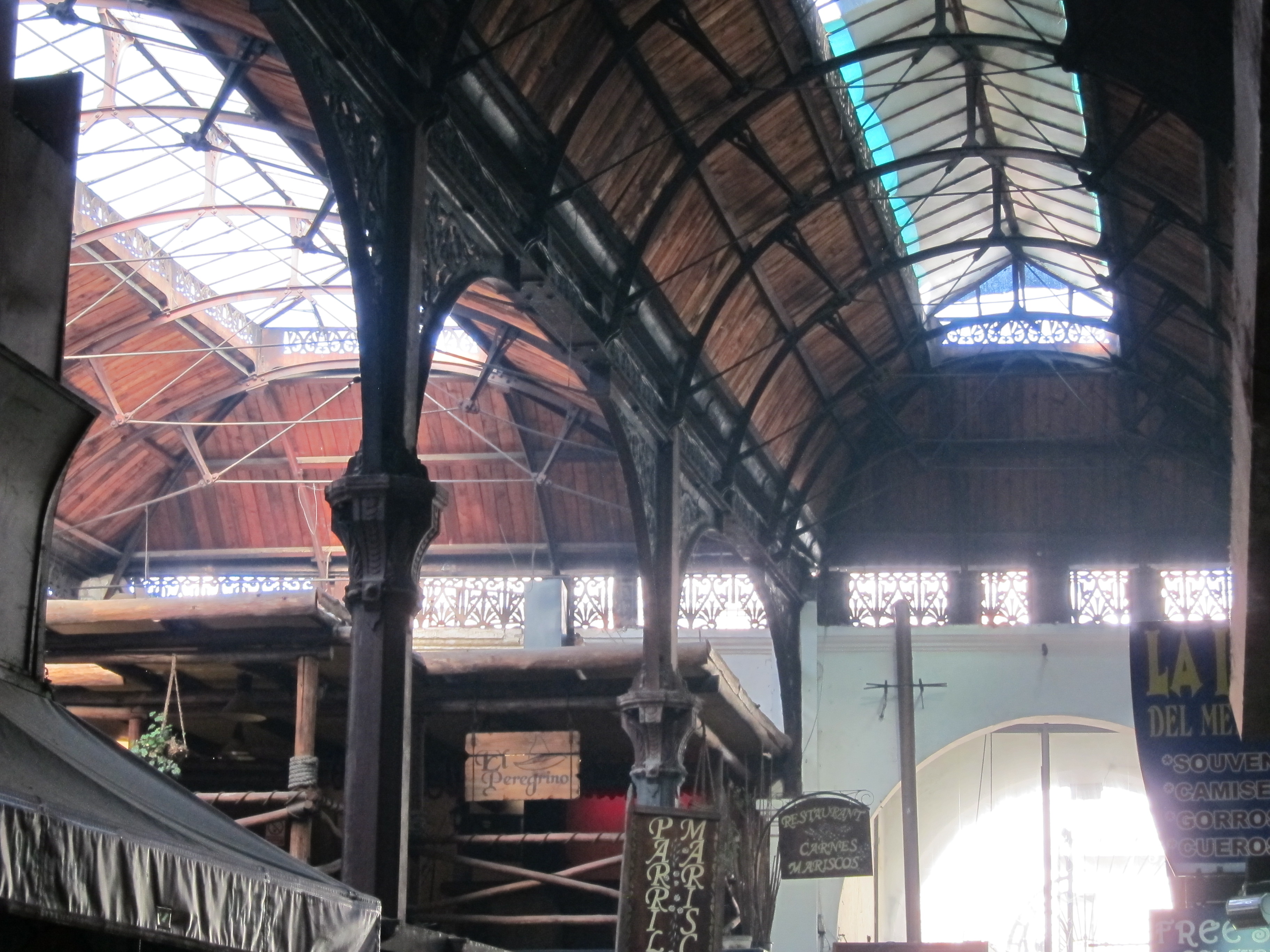 Walking back to the hotel, we came across a little wine store that looked like they may do wine tastings. Why not? It ended up being a fantastic experience. There were two very nice women working at the store, and the one giving us the tasting set up a little plate of bruschetta for us to have with the wine, and some chocolates to try with the liquors. The wines were an amazingly different Sauvignon Blanc which had far more fruity notes than I've ever had in a Sauv Blanc. The red was some hybrid varietal between … Petit Verdot (I think?) and Merlot. It was chocolaty, tannic, and delicious. The liqueurs we tried were a tannat liquor – similar to port, and a dulce de leche liqueur, similar to Bailey's but without that funky finish. Everything was superb. Service was great, and we learned a lot and had some good laughs with the ladies.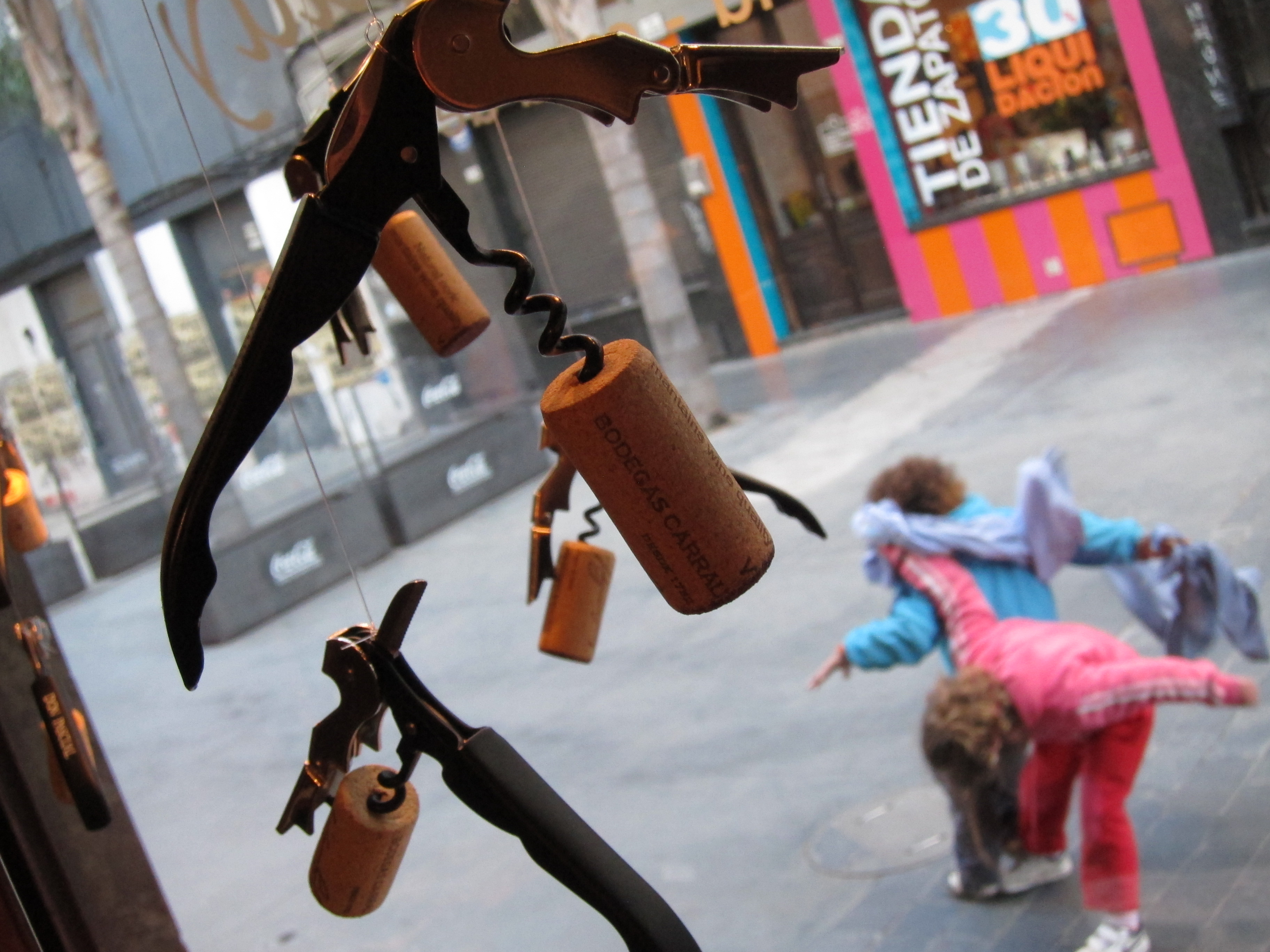 We were talking about Uruguay, and the small population. She said they needed more people – and if we knew anybody looking for a country to live in to send them to Uruguay – they'll happily take them, even pay them to immigrate. Perhaps Uruguay should post ads along the US/Mexico multimilliondollar border and provide a free cruise that departs from the Rio Grande. I can't think of anywhere else that may have lots of immigrants looking for an ideal place.
Similar great conversation was experienced at our hotel, Hotel Iberia. The owner was so friendly and funny. We chatted with them for some time before Alex went off to grab even more BBQ with his friend from middle school in Saudi Arabia. I had leftover gnocchi from the night before, and sipped some Tannat in the hotel, occasionally chatting with the hotel employees. It couldn't be more enjoyable, really.
Back to Buenos Aires for a single night before we head off to a flight to Rio de Janeiro. Time to practicar o português para falar muito bom. Uff, this is going to be a bit more challenging, linguistically!