Travel
Getting to Porto de Galinhas was going to be a bit challenging. Unlike Foz de Iguaçu and Iguazu, which were very small towns and easily navigable, Porto de Galinhas is located over an hour south of Recife. We had my smartphone with some offline maps, but no navigation.
Renting a car in Brazil may actually take longer than buying a car in the USA. This is not the speedy "oh you have a reservation? Here are the keys, please head out that door on the left to your car" experience. No, there is paperwork. There is a $1000 deposit on your credit card, and some other deposit. And you get insurance, and you show your international drivers license. And then there is typing, and radioing, and typing, and calling, and more typing. And oh, the typing. Seriously, I got a loan and title in less time.
But off we were in our VW Gol. This car was one notch up in class from the Chevy we had in Iguazu – compact instead of economy. What does this mean? For one, it means the car is a heck of a lot slower at accelerating either due to its size or maybe the engine. It could also be due to the fact that this car also has power steering. And cupholders! And electronic locks! The radio was interesting – it had USB and SD card slots to presumably listen to MP3's, but it lacked any form of digital tuner for the radio, so you had to scroll through each station to find anything. No matter – there were no stations worth listening to.
On the Route
The route to Porto de Galinhas is quite beautiful. Once we finally got out of Recife, the terrain changed substantially. The land is much more hilly than I had expected. Not large, gently rolling hills, but very steep , medium height and bubbly hills like you might imagine from The Shire, or Teletubbies. The sides of the hills were covered in sugar cane stalks. It was green. The road made no effort to cut through these hills to make an efficient path, but instead just rode along the valleys at the base of them. It made for fun driving, but also a bit scary considering how sometimes unpredictable the other drivers and motorcyclist could be.
We had to stop to get gas. Ethanol, actually. The experience was worth it. They brought us a little tray with two waters, filled up with the requested number of liters, and then refused a tip. I had to use the bathroom, and one of the attendants had to come over with a key to let me in.
Our hotel was a bit difficult to find in the small grid, as Google mis-placed it on the map and people didn't quite know how many blocks things were apart by driving. Eventually, we found the hotel, pulled in the car, dropped off our bags, and headed to the beach.
Porto de Galinhas
Porto de Galinhas reminded me quite a bit of Akumal, Mexico. It's a really small town known for its snorkeling. Though a bit bigger than Akumal, it still has a small-town feel and is a very nice escape from the urban beach cities like Rio, Salvador, and Recife.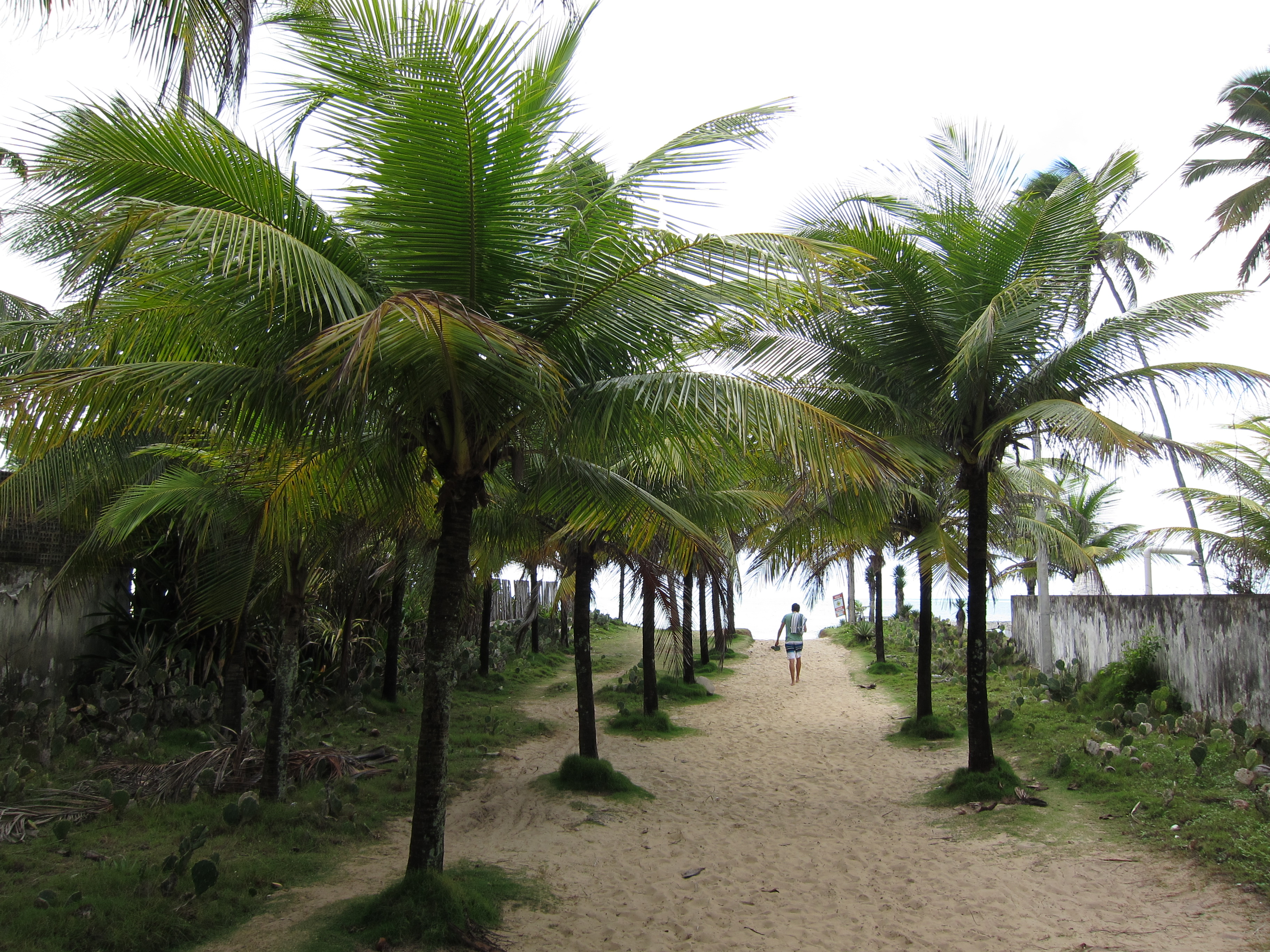 Leaving the hotel, we were a short walk on a sandy road to get to the beach. Not 100m from that road, we found a small stand where some surfers were offering lessons. Alex has wanted to try surfing since our trip to Puerto Rico. We immediately took their offer.
Surfing
With Skiing, I was very nervous I'd run into something going quite fast, or do the splits, or cross my legs into some horrible binding. With surfing, I guess you just have to worry about not drowning or being torn up by a shark.
We got terrible instruction. Neither guys spoke English, and the words they used in Portuguese seemed unlike anything I knew in Spanish. Great. Our instruction was the following.
Lie on the board on your chest
Paddle
Stand up quickly to catch the wave and ride it.
So simple. Right? Right….
No, its horribly not that simple. Well, 1 and 2 are simple enough until you're trying to paddle out and an incoming wave decides to crash your progress. You're supposed to basically be a submarine when this happens, going face-first into the wave with your board and emerging from the other side. In practice, when given a giant board like I had, this didn't work out so well. I lost my board several times, and for some unknown reason the guys didn't give me an ankle tether, so I had to run back to the shore to fetch it.
I started almost getting it, hopping up on the board, and riding the wave for maybe 6-7 feet before losing balance and falling off, losing the board, and having to fetch it. Frustrating.
One of these times, I grabbed the board by a small rope loop that was attached – where you'd normally hook your tether. At that moment, a wave came crashing into the board, pulling it along and damn near ripping off two of my fingers with it.
I was done, my fingers throbbing, me tired from paddling and constantly running to shore, and not receiving any instruction other than "paddle paddle paddle!…. Now! No! Not now! Now! Oops!"
I'm much better at sun-bathing. So thats what I did while Alex continued to play in the waves for a while.
Food
Town was best reached by beach at night. It was illuminated like a football field.
We had some pretty fantastic food in Porto de Galinhas. It may have actually been some of the best Brazilian food we had. Sao Paulo had amazing food – but it was all of other types of cuisines. For brunch, we ordered an açai bowl which was basically a frozen açai sorbet with bananas, granola, and raisins on top. I could definitely have that for breakfast every day of my life.
Two great restaurants were Barcaxeira and Gato do Rua. The first was a pretty unassuming place with good food and some silly photographer attempting to take pictures of menu items. He was not good at his job – every photo they took looked yellow, poorly framed, and awful.
Gato do Rua was very posh, with a small downstairs store, an upstairs bar/cafe out back, and the restaurant in the front. We enjoyed our meals while watching people outside on the street take
Big Cock Pics.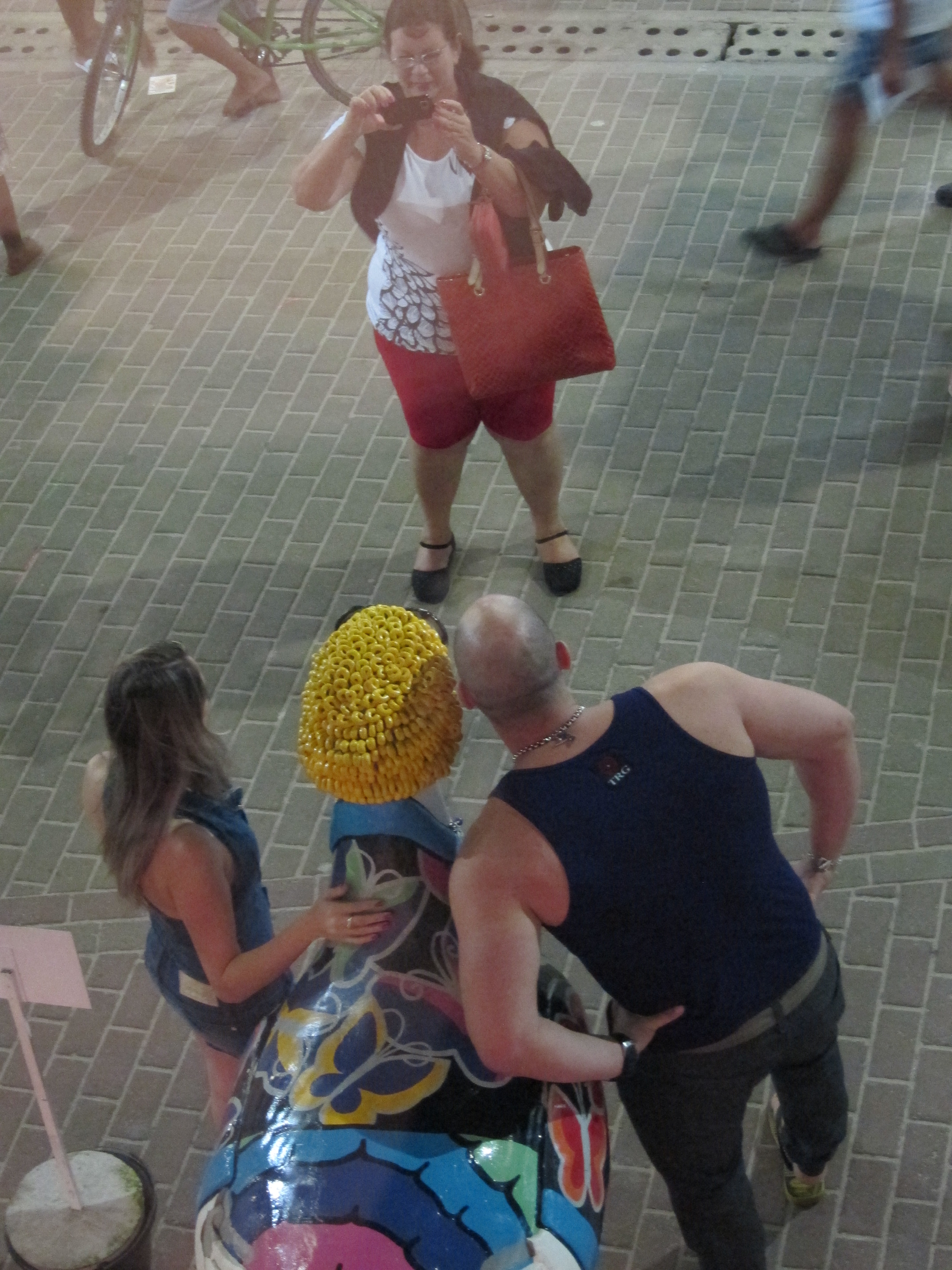 Porto de Galinhas translates to Port of Hens. Or chickens. Because of this, the town has taken the name to heart and there are t-shirts and other souvenier offerings of chickens, roosters, hens, eggs, feathers, nests, coups – anything chicken-related that you can think of. Most notable is that the city has many large sculptures of chickens around the city, painted in various different ways. Other cities have done this as well – like the painted buffalo in Buffalo, NY. Austin has painted guitars, and I think it had painted longhorns for UT at some point. These chickens appeared to be male, though. Big cocks. People loved them, and no matter what big cock you looked at, somebody was taking a picture of it. Obviously, it was a great source of jokes for us for some time.
Here are pictures of big cocks, and some of the people taking pictures of them.
Conversations with the Hotel Staff
I got to a point with Portuguese where I could finally stumble through some basic conversations with people. Not bad, eh? I very much enjoyed sitting at the outside bar by the pool, having some drinks, and speaking with a couple of the younger staff members. One girl said that it was her first day on the job, and needed some assistance from the other guy on how to make the drinks, record the order, etc.
We built up a good rapport with the two of them, and talked about where we were from, what life was like in Porto, and whether anybody had kids, brothers, sisters, etc, etc, etc. I got into a conversation with the girl about the economy in Brazil, and the discrepancy between rich and poor. It was a bit sad. She has never left Porto de Galinhas, but wants to go to many places but said she probably never could because of how little money she makes.
She also said that if she were to go into like a dance club, nobody would want to dance with her because they'd know she was poor, but if I or some rich Brazilian walked in, that everybody would be all up on them. Considering how integrated Brazil is, I was surprised to hear this because I don't know what exactly could tip anybody off as to how much money she has (or doesn't). She's a pretty girl, regardless, so who knows – maybe its just insecurities coming out.
I tried to reassure her that Brazil's economy is on the upswing, that the government is now lending money to other countries and when a nation becomes wealthy, inevitably people move from poverty to middle class as is currently happening in China and India – and has already happened in Japan. Maybe this helped re-assure her a bit. Who knows.
Anyways, she lives in an incredibly safe, tranquil village in the tropics right on the ocean in paradise. What else do you want, really? I can't help but be jealous. The grass is always greener on the other side, I suppose.