I'm writing this nearly a month from the first day we arrived in Recife. It turns out that re-adjusting to life in the States is not only time consuming, but welcomes my attention more than reflecting on the trip.
After dropping off our rental car (about a 45 minute procedure) we grabbed a cab to our hotel in Boa Viagem. If you couldn't decipher from its similarity, it means "Good Journey" or, as we say in English, "Bon Voyage". Since this was our port of departure from South America to the United States, a place named the equivalent of Bon Voyage seemed pretty suitable.
The irony is that any voyage within Boa Viagem was actually a terrible voyage due to the ridiculous amount of traffic on the surface streets. Roads were jam packed with cars that couldn't make it through intersections. The culprit seemed to be a combination of construction, poor traffic light timing, and poor urban planning. The cab ride to our hotel which is nearly walking distance to the airport took almost 30 minutes. Absurd.
We arrived at Hotel Aconchego, found out that they didn't really offer internet in the rooms. No matter, we could use the public wifi in the lobby area which seemed to be served by a 33.6kbps modem, shared by all of the guests.
The staff was incredibly helpful and friendly. One guy even offered to help me out with my cell phone issues. I had bought a SIM card to be able to make and receive calls on my phone, as well as have a data plan, but the thing basically only worked properly for a single day before I could only receive calls. No data, no outgoing calls, effectively no cell phone. Thanks, TIM. Should I have expected any more from an Italian company operating in Brazil? He had no success, though. Luckily, my friend who I was waiting to see, Patrica, could still call me and receive calls from our room phone.
We thought we'd go to the beach for a bit more. I asked if there was snorkeling along the reefs (Recife means Reef), to which the concierge responded "Well… we have a bit of a shark problem here in Recife". Its true – the number of shark attacks in Recife is astoundingly high because due to pollution of various nearby habitats, the sharks no longer have natural sources of food to feed on, so instead, they hungrily attack swimmers, divers, snorkelers, surfers, etc . Had the hotel guy not reminded me, the numerous signs along the beachfront certainly would have.
No need to worry about that though. The moment we stepped foot on the sand of the mysteriously deserted urban beach, it began to rain. I guess locals were avoiding it for a reason. I guess not every day on your sabbatical can be rain-free.
So, we hung out in the hotel lobby while waiting for my friend to be available. Got some drinks, sat by the pool, got some snacks, some drinks. Basically, this is all we did in Recife for the next day. We were just exhausted from traveling and walking and walking and simple things being difficult. The hotel staff did recommend their bus tour of the city. Normally we avoided such a blatantly touristic excursion, but Alex and I were ready to finally shut our brains off, be hauled around a city and told what to think of it and not have to worry about cabs or itineraries or schedules or maps or sunset time or any of the above. We signed up.
Patricia finally showed up much later than originally planned. This, of course, is due to that traffic problem mentioned earlier. Our original plan was to go to Olinda – an old colonial town probably meaning "the pretty" just bordering the North of Recife – for dinner, but due to that same traffic problem and the rain we decided it was best to stay nearby and go to one of the seafood joints along the shore. It was actually quite good food, and ridiculous quantities of food. I don't recall the name of the dish we got, but it was basically a big seafood stew served in a giant pumpkin-like gourd. Delicious.
Patricia's toddler, Sara, was absolutely adorable and well behaved. Patricia ordered her a side of french fries for dinner. When they arrived with the rest of our food, Sara's eyes widened, her dimples deepened and revealed the biggest smile, and she immediately, without thinking, turned to her mother and gave her the biggest, strongest, longest hug of appreciation I may have ever seen in my life. Imagine how she'll react when she gets a puppy or a car!
We also met Patricia's husband who had to come a bit later due to work. Being a fellow tech guy, we talked a bit about our jobs in broken Portuguese or English, and Patricia and I chose to speak in our Spanish roots. We did, after all, meet in Spain… in Spanish class.
We said goodnight and made plans for the following day which unfortunately didn't happen due to me coming down with a cold and Patricia being exhausted from running around all day. I was glad that we were able to meet up after so much time, even if it was just for a night.
Tour Bus
The tour bus was an interesting experience. We were the only people on the tour from our hotel, and the bus had to go around to pick up other passengers from other hotels before we went on our way. Everybody else was native Brazilian except for us. The tour was thus naturally in Portuguese. I, unfortunately, understood very little. Part of it may have certainly been that I was feeling quite ill at this point and really, honestly, didn't want to think or focus on anything other than pretty things which deserved a photograph.
We saw the following on our bus ride:
Old Recife – the original settlement of the city which feels very Portuguese. Its also mostly uninhabited and a bit run-down apart from the fresh paint. Another colorful slum, it seemed.
A phallic statue on the water. Everybody knows what it looks like. Everybody giggles.
Carnaval Floats – Some storage place where you can look at a lot of the float-like costumes used for carnaval parades. Some were pretty well done. Some – not so much. All of them were utterly creepy.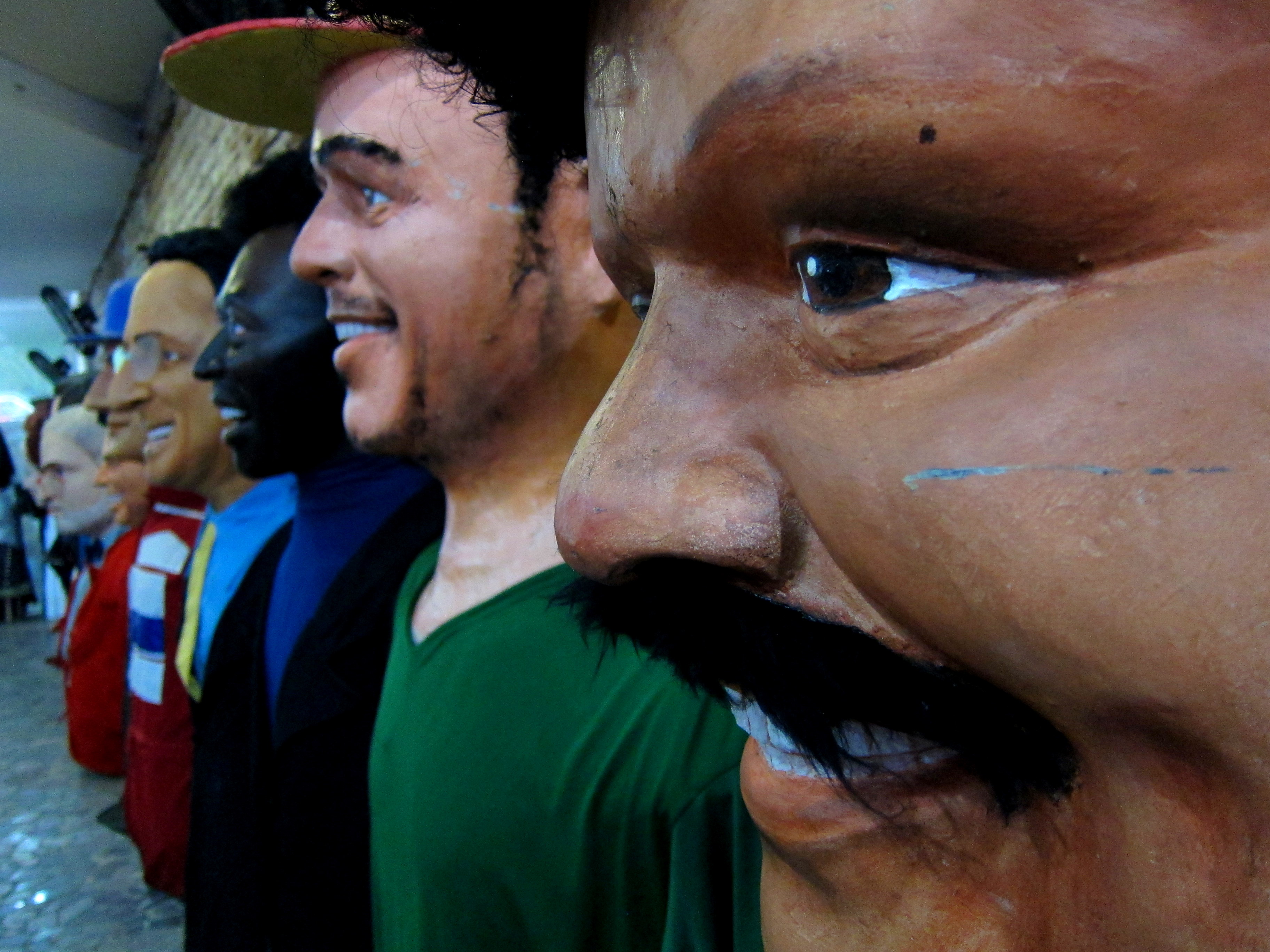 Olinda – A small UNESCO heritage town just to the north of Recife up in the hills with amazing vistas and, of course, the obligatory quaint old housing that makes for lovely offset-window photography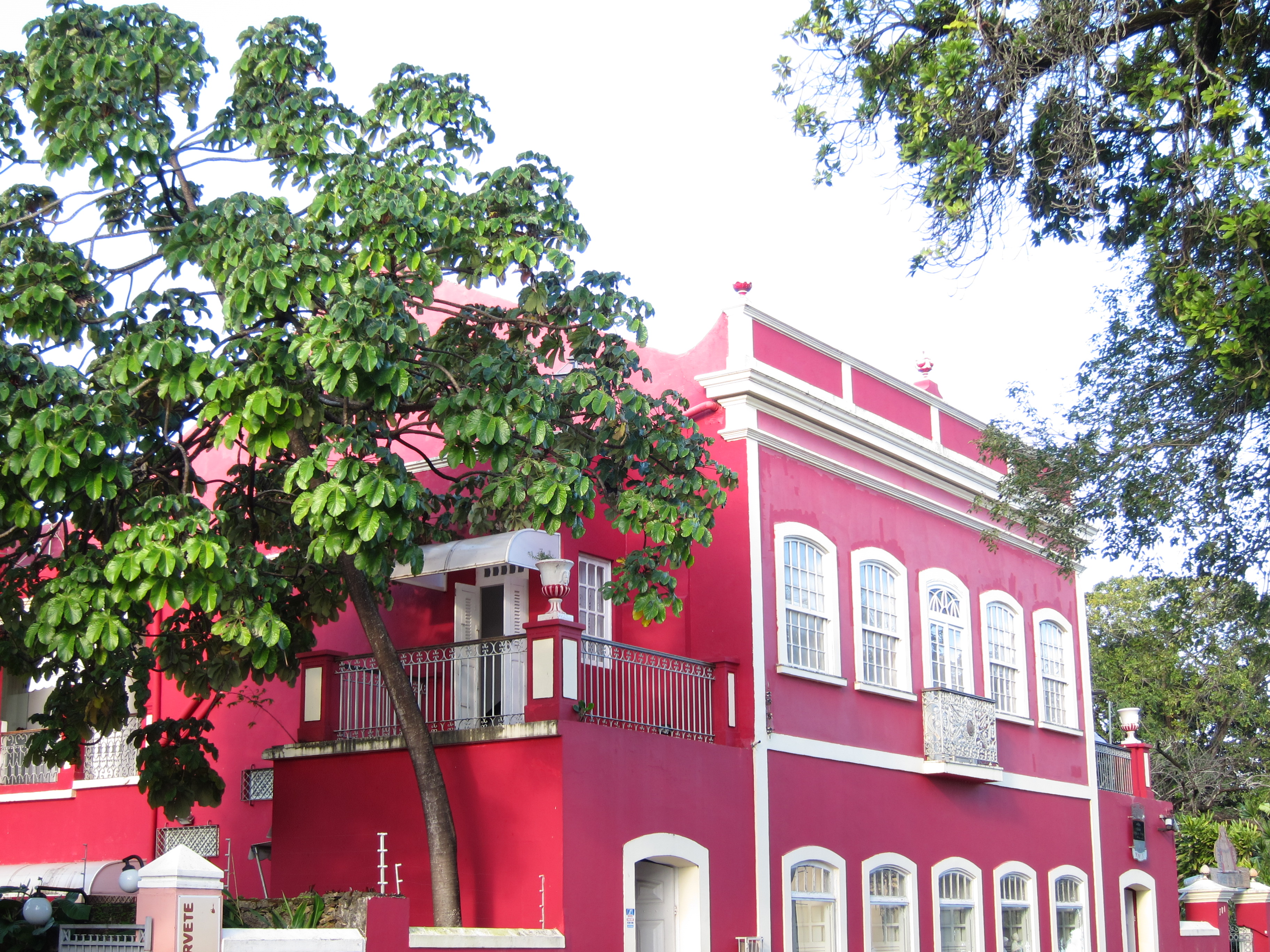 Traditional Pernambuco Carnaval dance performance demonstration. I've never seen a more flamboyant dance in my life. Splits. High kicks. More Splits. Umbrella twirling with tassled costumes. Holy. Effing. Crap. They got a tip for humility.
A trinket store that sold a ceramic goat drink dispenser, activated by pulling the goat's tail. You can imagine where the drink was dispensed from. More astounding were the male and female human varieties. We got demonstrations for a few of them.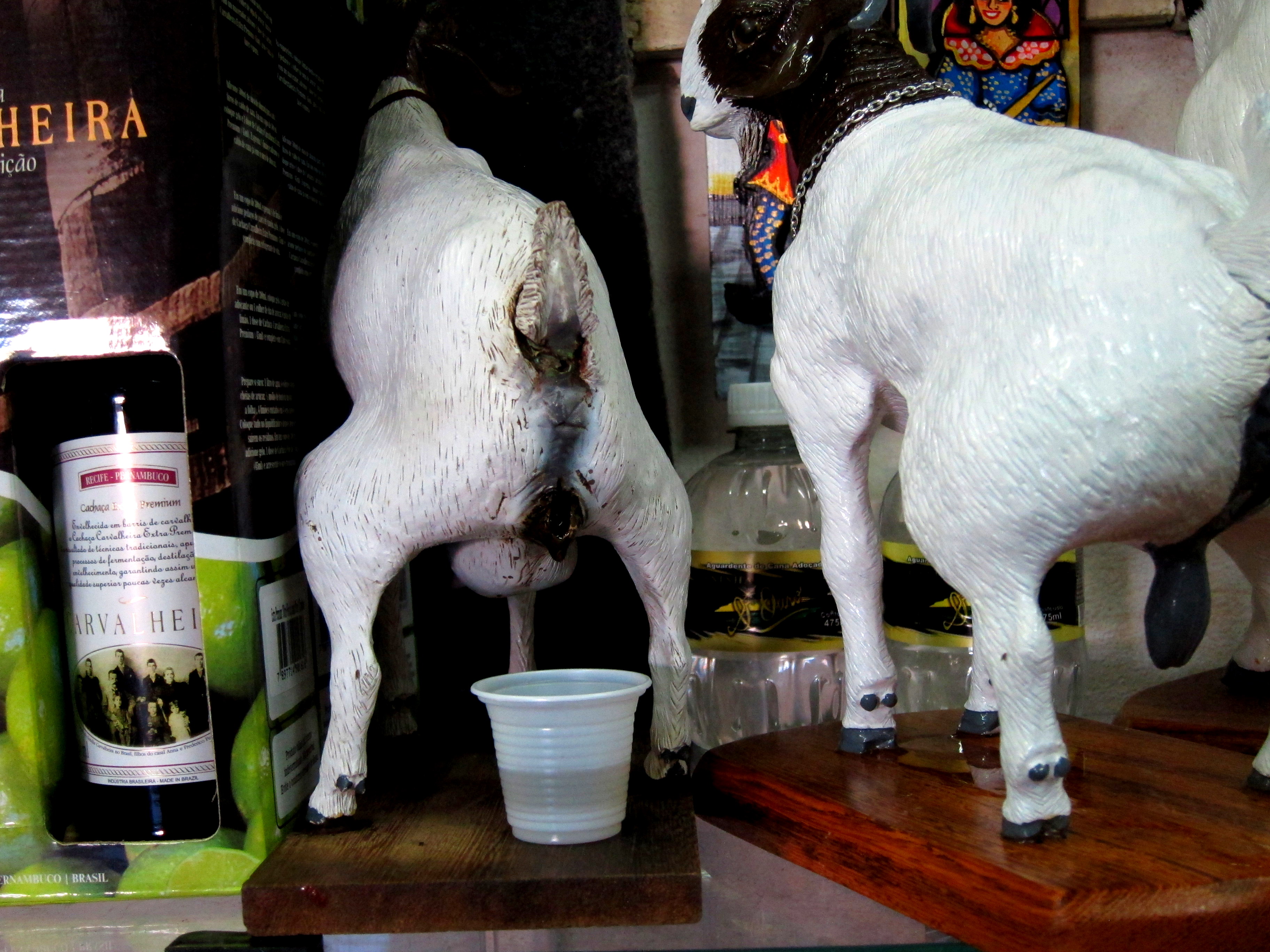 Churches.
More Churches.
Churches.
Some water tower art exhibit?
A jail which was converted to a town cultural center which was converted to a massive souvenir shop
On the ride back in the van – a very poorly produced muppet-like TV show, recorded on VHS. It also featured the most obnoxious laugh track ever.
Overall, I was glad we did the tour. I also was glad to remember why I don't often do tours.
Bon Voyage
Brains fried, bags packed, my throat sore and head clouded up with a cold – it was time to return to home sweet home. Land where cell phones work and ATMs don't hold your cards hostage, and you don't even need ATMs most of the time because everybody accepts credit cards to begin with. Land of English and Spanish and whiskey and beer and hotdogs not covered in 2 cups of mayo. Land of the free and the pastey-white fundamentalist Christians who I almost started to miss – if not just for their Type A organization skills. Land of the smiling, friendly waitstaff.
But who am I kidding… there's no passion fruit, mate, empanadas, or swimwear models. Its a net wash, really.
Return hi-lights:
Long taxi ride to go like 1 mile. Again, thanks to that Boa Viagem traffic problem.
We are told that the Federal Police (aka international travel security personnel) are on strike
Our incoming flight delayed over an hour, outgoing flight delayed another hour.
As expected, due to a relatively short layover time in Miami and persistent poor on-time performance by AA on the Recife flight, we miss our connection to Dallas and get stuck in Miami.
Somehow, we convince the AA attendant that this is their fault. The key was mentioning the delayed incoming flight, but not the federal police strike. She gets us complementary hotel rooms.
The hotel is a Holiday Inn. Its a terrible hotel – the worst of the trip. I was sick. I had about 4.5 hours to get sleep before we had up. What do they tell us when we arrive? Smoking rooms only
The hotel restaurant was decent, featuring a large array of cuban cuisine – none of which was vegetarian. The check took a whopping 45 minutes to process, even after a very angry Brian stomped up to the host and offered to pay cash if it would help GTFO any faster.
Eventually, we made it through Dallas and back to Austin. I realized – I don't even remember the flight to Dallas, or being in Dallas airport, or how long we were there. Perhaps we were never there, after all – which I would be totally fine with.
Life resumes back in the US with a very odd day of combined feeling of complete exhaustion, restlessness, pre-occupation, anxiety, happiness, sorrow, and, well, basically I was as tired as I had ever been but could hardly sleep. When I did wake up from a nap, I nearly panicked because I had absolutely no idea where I was. I thought I had been kidnapped to some strange place in Brazil. It took a solid minute to have my environment fall back into place and realize I was home.
I was home.